Meet Boston Optometrist, Dr. Patricia Fox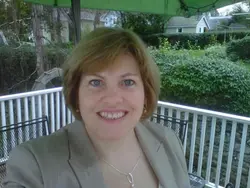 Dr. Fox is an Optometrist in Boston providing complete eye care services for the surrounding communities.
Dr. Fox is a 1989 graduate of New England College of Optometry and in 1999 completed a Certificate in Therapeutic Treatment of Eye Disease at Pennsylvania College of Optometry. She has been in practice in the Boston area since she graduated, and founded Eyes Over Copley in 2003.
Dr. Patricia Fox loves helping people see better every day. She is committed to providing excellent eye care and to giving every person thoughtful, individualized attention. She takes the time to discuss all the important aspects of the eye exam, including prescribing the most exact eyeglasses or contact lenses, as well as explaining the ways we can keep our eyes healthy. Call us at (617) 859-0630 to schedule your appointment.